Draw Your Free Birth Chart
Just fill in your details to make your chart. All we need is your date, time and place of birth.
'Nobody's future is written in the stars, it's ours to create.' - Carolyne
Buy the Book
The Signs is the book on everyone's lips.
Life enhancing, easy to follow, gender neutral and
effortlessly cool.
Written by Carolyne Faulkner:
life coach to the movers and shakers of the creative
worlds, and the lady the press call "Britain's coolest Astrologer," this book demystifies the cryptic world of astrology, and combines it with practical life-coaching.
Urban Outfitter's Best Selling Book 2018/2019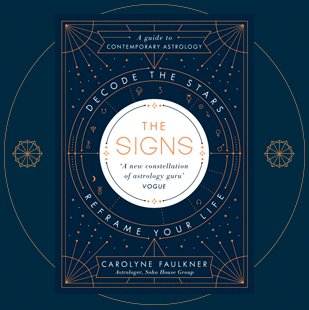 This fast track astrological self-help is what makes her readings so compelling - she categorises signs into 'gone wrong' and 'gone right' and coaxes people to look honestly at how they can change the former and bring out more of the latter in themselves.

It was Faulker's theory, as it turns out, that ultimately helped me move on from past heartbreaks—and move forward with my own journey.

Britain's coolest astrologer

A new constellation of astrology guru.

In The Signs, astrologer and life coach Carolyne Faulkner demonstrates how you can use astrology to improve every aspect of life, including your relationships and career.

Carolyne Faulkner of Dynamic Astrology is renowned for her astrological readings The woman making astrology cool again